Originally published last year, I think this post is a reminder to hold our dear ones close and be thankful for every moment.

*****
I'm thinking about a little girl today. Her name was Julia. She lost her battle with a blood disease last year at Thanksgiving time. Her life touched mine and I still think of her fairly often.
I never met her.
I knew her mom at 10 years old in 5th and 6th grade when I lived in Nebraska for about 18 months. Omaha (Bellevue, NE) was my dad's last military post and we moved to the East Coast for the rest of my school years. I lost touch with everyone there after awhile, but recently found a few people via Facebook from my elementary school.
Julia's mom would post notes of hospital visits, doctor's strategies, photos and Julia's status on FB to keep her friends and family up to date. Living in New Mexico, Julia and her mom had to travel away from their family to be treated near Denver, in a program specializing in her condition. Separated from their family for a good portion of her stay, must have taken a toll on both of them. But you would never know. Every update was not just full of information, but between the lines, was a picture of two strong women taking on an incredible obstacle.
Since we travel to Denver more than twice a year, I planned a visit to the hospital. I was going to have Abe come with me to provide a fresh face for Julia. I know they would have gotten along famously. But it was not to be. Julia's condition worsened while we were in Colorado and her mom did not want to leave her side. I was able to drop off a care package for them, but we did not see each other. That was in the summer last year. She and her mom traveled to NYC to try yet another treatment in the fall, but Julia did not make it back to New Mexico as everyone had hoped and prayed that she would.
I've read that Julia had a great laugh and a wonderful spirit. As I write, the tears come for this beautiful girl and her awesome red hair, like her mom. I see Julia in my mind in a photo that was taken at the Denver Zoo. She was wearing the cutest hat and a happy expression. I think at this time of year, I will always remember Julia. I have her family in my thoughts too. And I take stock of my own.
:::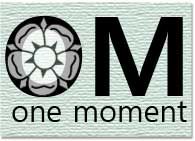 OM is *one moment* and is a meetup designed to notice & relish a moment in everyday life. The meetup idea was created by Linda at her blog,
a la mode stuff
.
If you'd like to participate in OM, just click the button and you'll be taken to Linda's post explaining it all.