In reading Candy's blog, Candied Fabrics, she mentioned a new meetup called OM. OM is *one moment* and is a new meetup designed to notice & relish a moment in everyday life. The meetup idea was created by Linda at her blog, a la mode stuff. While walking her dog, she took notice of beautiful things in her neighborhood that she had never appreciated before and the meetup idea was born.

———————————



I try to attend my favorite power yoga class once a week. I only discovered yoga about three years ago and the class I take now was the class I tried then. My instructor is just my style: dedicated, knowledge-seeking and funny! I laugh in class quite often and appreciate that Yoga John (as he's been dubbed) doesn't take it all so seriously, just the parts he should.

My One Moment came while practicing yoga. Recently, there have been many more men in the class. And when I say *men,* I mean 20-year-old males. This doesn't make me feel uncomfortable, it just changes the setting in the room.

As the moments went by in this particular class, I realized I felt great in the challenging poses, while the young and fit men were groaning and suffering. And even though I let my ego take over for a minute (a definite no-no in yoga), I let myself enjoy this One Moment.

I always struggle athletically. I desire to be some sort of athlete (see here), but I don't have the capability to excel as I'd like. But that moment in yoga class made me see that I can excel when I play to my strengths. And that is something to apply to all aspects of life.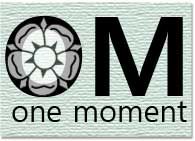 If you'd like to participate in OM,
just click this button and
you'll be taken to Linda's post
explaining it all.

Photo credits:
1. yoga – dog pose, 2. Downward Dog, 3. The New WiiFit Schnoodle Attachment, 4. downward dog