Many of the blogs I read usually have beautiful photos of stylized objects. I try to make this blog as pretty as possible without compromising reality. This photo ain't pretty, but the action behind it was.

My husband was home with our 4yo and it was that time of day for whining and possible melt-downs. He snapped the 4yo out of his "mood" by suggesting they make banana bread. In partnership, they created this wondrous pan of mess. Oh, my poor oven…

As I walked in later with our older boy, I had to take a breath and just let it go. I found the humor and ran with it. What would getting upset accomplish anyway?

I'd like to tell you that the banana bread was delicious despite it's appearance, but I can't. I will tell you that it's time to purchase some new loaf pans. Any recommendations?

:::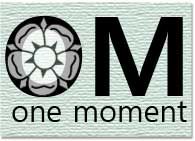 OM is *one moment* and is a meetup designed to notice & relish a moment in everyday life. The meetup idea was created by Linda at her blog,
a la mode stuff
.
If you'd like to participate in OM, just click the button and you'll be taken to Linda's post explaining it all.