One of my favorite quotes from the accidentally-wise, Mike Tyson, is "Everybody's got plans… until they get hit." Oh, the plans I had for October…

But I've been doing this work-at-home, be your own boss indie biz for long enough to know that you make your plan and you cross off what you can.

One goal I had for the month was to run a total of 50 miles. Barring injury, I will be crossing that off my list on Sunday. It is a feel-good accomplishment that gives me a moment of healthy pride.

A special thanks to Cathy Zielske for her general awesomeness and for creating the challenge, Women Run 50 Miles in October, on Nike+. It was just the motivation I needed to get moving.


:::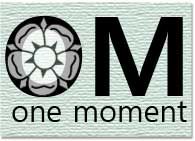 OM is *one moment* and is a meetup designed to notice & relish a moment in everyday life. The meetup idea was created by Linda at her blog,
a la mode stuff
.
If you'd like to participate in OM, just click the button and you'll be taken to Linda's post explaining it all.