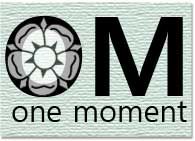 OM is *one moment* and is a meetup designed to notice & relish a moment in everyday life. The meetup idea was created by Linda at her blog, a la mode stuff.

If you'd like to participate in OM, just click the button and you'll be taken to Linda's post explaining it all. After you read this post, of course ;)

————————————–
Creating & working from home is a blessing for me. I truly appreciate being able to make this thing I call
RiverDog Prints
work as a creative business for me and my family.
There are good days and bad days that go along with this blessing and the good days far outweigh the bad. I do spend a lot of time working alone. I bounce ideas and plans off my husband and friends when I can. But for the most part, I sit alone in a room and get it done.
Recently, I did a custom order for a fellow Etsian — a set of small thank you notes for her shop,
BeeWitchinStitchin
. The shop owner, Kathy, had seen the post about me on Candy's blog,
Candied Fabrics
. Kathy and I worked together to create some sweet little notes for her customers.
So, my moment came when Kathy wrote about me on her
blog
. I know the time it takes to write a post and for both Kathy and Candy to write about little ol' me is humbling and heart-warming. As I sit alone in my office, my moment is to take a moment and enjoy your company.